Purpose: to measure the spectrum of a short-term pulsed high-power microwaves (HPM) distributed over a large cross section.
Operational principle: cut-off waveguides reflect microwaves with frequencies below certain value, and are transparent to microwaves with higher frequencies. An ensemble of circular waveguides packed together (so-called "microwave cut-off filter") operates similar to a stand-alone waveguide.
| | |
| --- | --- |
| I. L. Bogdankevich, P. S. Strelkov, V. P. Tarakanov, et al. "A calorimetric spectrometer measuring single pulses of relativistic microwave generators". Instruments and Experimental Techniques, vol. 43, No. 1, 2000, pp. 82-87. | |
Main components: calorimeter(s), cut-off filter(s).
2-piece configuration: ring-shaped calorimeter to measure the fraction of lower frequencies reflected from the filter; disk-shaped calorimeter to measure the fraction of higher frequencies penetrated through the filter; two electronic blocks, one for each calorimeter; a set of cut-off filters; container.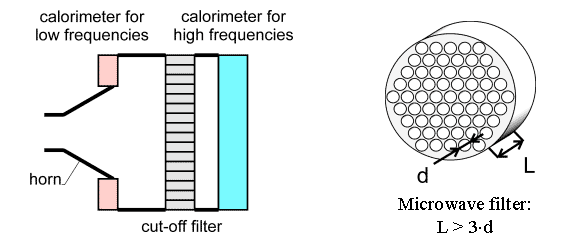 Typical parameters: are determined mainly by that of calorimeter(s) (e.g., diameter 56 cm, sensitivity 0.15 J and frequency band 1.5 GHz - 60 GHz) and the set of filters.
Area of application: effective in case of bad reproducibility of microwave power from pulse to pulse.
Advantage: all the HPM power is registered irrespectively to its particular distribution. The ratio of the signals from the two calorimeters (which corresponds to the spectrum) varies less than the power.

1-piece configuration: ring-shaped calorimeter is absent, the gap between the horn and the filters is substantial (~ the longest wavelength emitted). The configuration is recommended in case of good reproducibility of HPM power from pulse to pulse. The configuration comprises one calorimeter, a set of several filters and the container.
Advantage: more simple in use and cheaper comparatively to the 2-piece configuration.
Drawback: it does not provide the information about the total HPM pulse power.